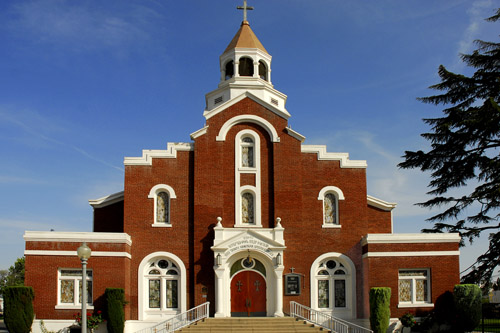 ABOUT HOLY TRINITY ARMENIAN APOSTOLIC CHURCH
Established in the heart of Old Armenian Town in downtown Fresno, California, the Holy Trinity Armenian Apostolic Church is a focal point of American – Armenian community life.
Holy Trinity Church is part of the Universal Armenian Apostolic Church that was founded by the Apostles of our Lord Jesus Christ, St. Thaddeus and St. Bartholomew. The Nicene Creed along with the traditional Christian-Armenian Faith are the Foundation of the Armenian Church.
In Fresno, the first Divine Liturgy – the Holy Badarak was offered in 1895. In 1900, the Church became the first Armenian Apostolic Church registered in the Western Hemisphere. The sanctuary was rebuilt in 1914, and is on the National Register of the Historic Places.
His Holiness Aram I, Catholicos of the Holy See of the Great House of Cilicia is the spiritual head of  a number of worldwide diocese.  The Great House of Cilicia is located in Antelias, Lebanon.  In the United States, the Western Prelacy has jurisdiction over Armenian churches. 
These churches were established during the past 100 years.  The Holy Trinity Armenian Church is the second Armenian church established in the United States.  Within the Western Prelacy, headed by His Eminence, Archbishop Moushegh Mardirossian, Prelate, Holy Trinity Armenian Apostolic Mother Church is one of the two churches.
Dioceses in the Holy See of the Great House of Cilicia
Western Prelacy of the Armenian Apostolic Church of America (Archbishop Moushegh Mardirossian, Prelate)
Eastern Prelacy of the Armenian Apostolic Church of America (Archbishop Anoushavan Tanielian, Prelate)
Armenian Prelacy of Canada

 

(Archbishop Papken Tcharian, Prelate)
Diocese of Aleppo, Syria  (Bishop Masis Zobouian, Prelate)
Diocese of Damascus, Syria (Bishop Massis Zobouian, Prelate)
Diocese of Lebanon (Archbishop Nareg Aleyemezian, Prelate)
Diocese of Cyprus (Archbishop Khoren Doghramajian, prelate)
Diocese of Greece (Archbishop Kegham Khacherian, Prelate)
Diocese of Tehran, Iran (Archbishop Sebouh Sarkissian, Prelate)
Diocese of New Julfa, Iran (Bishop Sipan Kechejian, Prelate)
Diocese of Tabriz, Iran (Bishop Krikor Tchiftjian, Prelate)
Diocese of Kuwait  (Very Rev. Bedros Manouelian, Prelate)
Diocese of the United Arab Emirates, Qatar, and neighboring (Bishop Mesrob Sarikisian, Prelate)
Churches in the Western Prelacy
Fresno – Holy Trinity Armenian Apostolic Church
(Very Rev. Fr. Dajad Ashekian, Pastor)

Hollywood – St. Garabed Armenian Apostolic Church
(Rev. Vicken Vassilian, Pastor)

Montebello – Holy Cross Armenian Apostoilc Cathedral
(Very Rev. Fr. Muron Aznikian, Dean, Rev. Ashod Kambourian, Pastor)

Encino – Holy Martyrs Armenian Apostolic Church
(Rev. Razmig Khatchadourian, Pastor)

Glendale – St. Mary's Armenian Apostolic Church
(Archpriest Vazken Atmajian, Pastor, Rev. Ardak Demirjian, Pastor, Archpriest Gomidas Torossian, Pastor)

Pasadena – St. Sarkis Armenian Apostolic Church
(Rev. Boghos Baltayan, Pastor)

San Francisco – St. Gregory Armenian Apostolic Church
(Very Rev. Fr. Barouyr Shernezian, Pastor)

Orange County – Forty Martyrs Armenian Apostolic Church
(Karekin Bedourian, Pastor)

The Armenian Apostolic Church of Colorado and Rocky Mountains
(Visiting Clergy)

North Hollywood – Armenian Apostolic Church of North Hollywood
(Archpriest Nareg Pehlivanian, Pastor)

La Crescenta- Armenian Apostolic Church of Crescenta Valley
La Crescenta- Armenian Apostolic Church of Crescenta Valley

Las Vegas – St. Garabed Armenian Apostolic Church
(Fr. Arsen Kassabian, Pastor)

More information on the Great House of Cilicia may be obtained at http://www.cathcil.org/